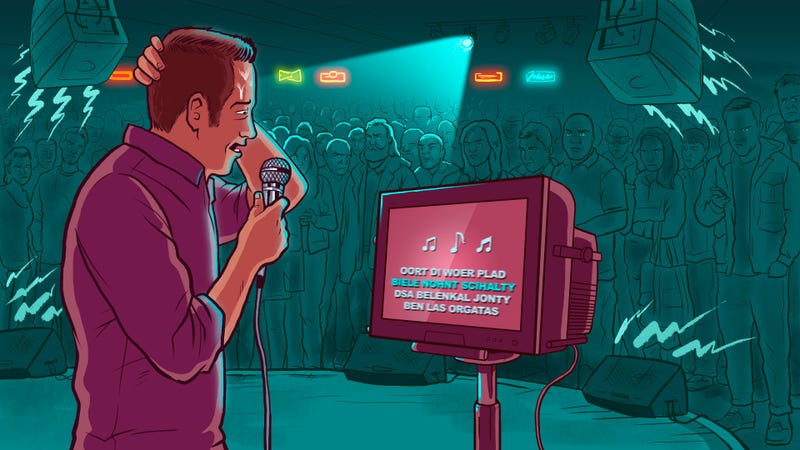 Karaoke always seems like a good idea. Let's get everyone together and rock out! It'll be fun! Yeah no.
If you hate singing/attention, the whole thing is brutal. Listen, I get it. I'm essentially tone-deaf, and karaoke can really bring me down. But you also don't want to putter around some dingy karaoke bar, avoiding the mic and acting like a killjoy. Here's a plan of attack so that you can sing the shit out of '90s alt rock (with an ice-cold Coors Banquet Beer in hand) without feeling like a complete bozo.
With Coworkers
Karaoke is a great way to shed the boredom of your fluorescent-tinged days alongside your fellow office drones. Sharing in the discovery that the HR lady has the honey-coated pipes of a heavy-metal angel creates camaraderie. It's almost better than a low-grade office scandal. But the stakes are high. You're a grown-ass adult and have worked hard to maintain professional relationships — but singing your heart out means you gotta drop some of that pretense.
Workplace social events bring together a bunch of different demographics. That's why '90s R&B is a solid choice. It's like a warm safety blanket because it's universally loved. Start with this, no substitutions.
After you've sung your first song and established a bond with the crowd, you'll start to feel a little more comfortable around this group of semi-strangers. You can now move away from your standards. Stick to something upbeat, though. None of your coworkers want to see you weep through the song that got you through your breakup with Alison.
Don't rap unless you're really good at rapping. Sure, everyone likes Biggie, but guess what: Nobody likes listening to some square from accounting stumble his way through "Hypnotize."
Pro Tip: Maybe you're an old hand and are setting this thing up for your officemates. Scope out the place beforehand and, if funds allow, get a private room. People will be able to let loose without fear of looking like a fool in front of random people.
With Family
Your family may love you, but they're also going to tease you mercilessly if you act like a moron. Dads are the original haters. And don't be lulled into a false sense of security if this takes place in some suburban finished basement with a second-hand karaoke machine. This setup might look low-key, but believe me, grandmas will be getting down.
Hit the nostalgia chord hard with a classic. Old people love their precious memories, after all.

Want to try something a little weepy? Do it. Your aunt will be into that love ballad. Better yet, try a sing-along. A duet with your mom will be cute, and score points with Pops. (This also is a great way to one-up your siblings.)
Crowd participation is good way to get the older folks involved. Have the family members sing with you. Make them wave their hands. Get dorky.
Unless you want a mouth full of soap, avoid swear word–laden rap songs and anything that ventures too far into bump 'n' grind territory.
Pro Tip: Make sure you've performed this song at least once before. Otherwise, you'll sing poorly and look real dumb. This is your family and you know they'll bring it up in the yearly Review of Failures.
With Friends
This is the most chill of karaoke scenarios. When singing with pals, you probably will be cheered-for no matter how much you sound like a woodland creature being put through a wood chipper. You also will be mocked. Whatever. You're gonna have fun.
Know how you sound. Even if you sing like a croaky goat you can own it. Your buddies don't actually care. The big secret of friend karaoke is that it doesn't matter how good you are. This is a (mostly) judgement-free zone; let your voice soar. Just remember that even though you may (think) you sound pitch-perfect in the shower, that doesn't mean the song will hold up outside the comforts of your bathroom.
Now's your chance to pick something humorous, cheesy, or ironic. You're with your friends, and the point is to have fun. Get personal. If you feel like baring your heart and singing your No. 3 top makeout song or something (Nos. 1 and 2 are not for the likes of your buddies), don't be shy.
Heartfelt group sing-alongs, lighted phones held high, are the mark of a successful karaoke night with friends. In that vein, pop songs from the '80s will bring people together. So will universally appealing hair-rock jams.
Got your eye on a special lady in the crowd? Dedicate a song to her. In theory, a sticky-floored karaoke bar isn't the ideal place to pick up someone, but actually this is a great time to show off your encyclopedic knowledge of obscure '90s lyrics and your can-do attitude. It's also a non-threatening way to get a woman's attention — and if she's into it, you'll have something to talk about after. You'll probably want to sing something easy to avoid embarrassment, though.
Pro Tip: Perform! Really get into it. I'm talking hand gestures, dance moves, the works. Use the stage to your advantage. It'll hide any lack of talent. Sure, you'll probably look like an idiot, but it's cool. These are your friends, and this is a safe space.
In any situation, make sure you know the whole song, not just the chorus. It's going to get real uncomfortable when you've sung half that power ballad and then realize it's seven minutes long. But in general, you can't go wrong if you know your audience. Some people are a little more serious about the whole thing than others. If you're among some karaoke champs, don't sing something half-heartedly. That's just rude, man.
And most importantly, don't overthink it. It takes abandon to find your inner ballad-belting karaoke king. Grab a Coors Banquet Beer, get up there, and get ready to become a star.
Nandita Raghuram is a Senior Writer at Studio@Gawker. She tweets here.

This post is a sponsored collaboration between Coors Banquet Beer and Studio@Gawker.

Illustrations by Rob Dobi.