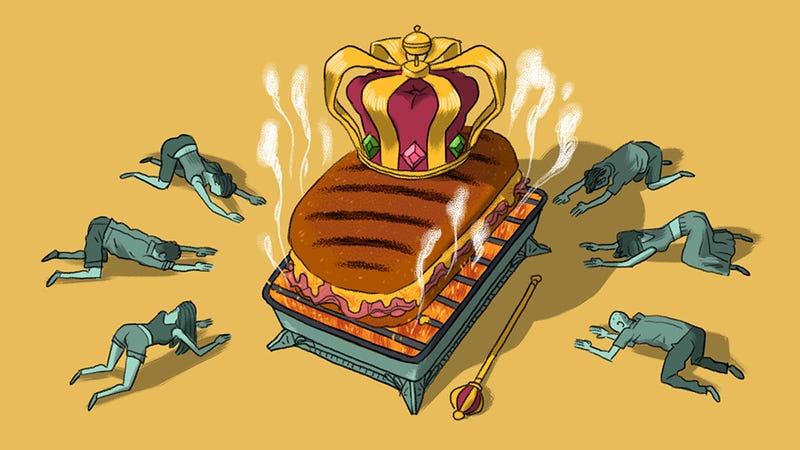 If you spent the winter in your kitchen perfecting your bread:meat:cheese ratio, congrats. But now that it's summer, you face a dilemma: How do I take my sandwich skills outside? Easy: grill 'em.
Disclaimer: While grilling offers the allure of sunshine and fresh air, this technique may spark debate amongst sandwich purists (I've seen arguments about whether a hot dog is a sandwich or if aioli is more than mayo with a stick up its ass get pretty heated). Fear not sandwich mavericks, you've got a lot working in your favor. For starters, pretty much everything tastes better with a nice char. Plus, hot sandwiches tend to feature my vote for eighth world wonder: melted cheese. Also, summer grilling is God's work.
Bottom line: these are your sandwiches — make them however you goddamn please. Here are a few recipes to help you assert your sandwich dominance and enjoy the great outdoors — or at least a backyard (or rooftop) barbecue.
The Grilled Cuban
If the summer heat is making you crave more exotic fare, look no further than the cuban. Nail this pork-and-cheese-bonanza early on, and you'll set the barbecue bar high for the rest of the summer. A classic cubano gets its heat from a panini press, but grilling it adds a nice smokiness to all that pork.
Here's what you need (per sandwich):
How you grill it:
First, assemble your sandwich: butter one cut-side of the bread loaf and spread mustard on the other. Try to save some butter for the next step. Layer your ham, pork, cheese, and pickles on the buttered side. Enclose everything with the mustard side of the other slice. Give the outside of the sandwich a heavy smear of butter. Wrap it completely in aluminum foil. Heat your grill to high (550°F) and close the lid. Wait at least 15 minutes then lower the heat to medium-high (450°F) and close the lid again. Before commencing the grilling, press down on your wrapped sandwich to flatten it. Put your wrapped, flattened sandwich on the grill and place a grill press, brick, or any other heavy, non-flammable object. Close the lid and cook for 5 to 6 minutes. Flip the sandwich and grill for 5 to 6 minutes on the other side. Take your sandwich off the grill and remove the foil. Put your unwrapped sandwich back on the grill for about 2 to 3 minutes on each side (or until you've achieved golden crispiness). Take your sandwich off the grill and cut at an angle so you get two wedges or triangles.
Pro Tips: Add a little heat by spreading a little hot pepper relish on your bread. Or up your sauce game with a citrus-based sauce to hit on the Cuban's Floridian roots: In a blender, combine ⅓ cup mayonnaise, ½ cup orange juice, 1 tablespoon lime juice, 1 teaspoon garlic, a dash of cumin, and salt to taste until smooth. Add around ¼ cup cilantro leaves (depending on your feelings about cilantro) and blend until smooth and creamy, about 30 seconds. Spread on both slices of bread before building your sandwich.
The Cheeseburger
When it comes to barbecue staples, the cheeseburger holds court. There are about a zillion "Best Cheeseburger Ever!" recipes out there, but like most things, cheeseburgers tend to succeed when you keep things simple.
Here's what you need:
How you grill it:
Divide beef into equal parts. Without getting too handsy, gently roll each section into a ball, then lightly press them between your palms and flatten into disks. A few minutes before you're ready to grill, lightly sprinkle each patty with Worcheshire sauce, then season liberally with salt, and pepper. Clean and grease your grill grate. Heat to medium-high. (A charcoal grill with a chimney is preferable.) Brush each side of your chilled patties with cooking oil. Place them on the grill and cook for around 3 minutes or until a char develops. Flip the patties, and move them to the cool side of the grill. Place the desired type of cheese on top, and cover the burgers. If your guests request that you, "hold the cheese," kindly ask them to leave.The best way to determine if your burgers are cooked to your liking an instant thermometer stuck directly in the center of each. If you're a respectable human and appreciate a pink, juicy medium-rare, shoot for 130°F. Toast your buns. This should take around 20 seconds. Invite your friends to dress their burgers however they choose. To each his own — except when it comes to cheese.
Pro Tip: Special Sauce. This one combines ketchup, sour cream, apple cider vinegar, prepared horseradish, dijon mustard, and (obviously) mayo.
The Grilled Chicken Sandwich
Moving on to the grilled chicken sandwich. Wait, come back — it's not the blah grilled chicken sandwich you're used to. This one involves bacon and potato chips. Are we good? Ok.
Here's what you need:
How you grill it:
Place one chicken breast in a resealable plastic bag. Use a meat pounder, rolling pin, or small skillet to pound it into an even thickness (about 3/4-inches). Whisk water, salt, and sugar in a large bowl until everything is dissolved. Throw in your chicken breasts and refrigerate them for 30 minutes. Congratulations, you're brining! Light your grill and wait till it reaches a medium-high fire of 375-450°F. Remove your chicken breasts from their brine bath and pat them dry with paper towels. Season with salt and pepper, and brush them lightly with the remaining oil. Grab your bacon and place it between hot and cool sides of grill. Don't let it get too crispy. This should take around 15 minutes. While your bacon is sizzling, put the chicken breasts over hot side of the grill and cook until the grilled side is nice and browned (3 to 5 minutes). Flip each breast and continue to cook until second side is browned. Do this two more times per side. Using an instant read thermometer (inserted into the center of the breast) make sure the chicken registers 160°F (or 150°F if you're feeling daring). If your chicken gets too brown before reaching 150°F, move them to the cool side of grill and cover until they reach 160°F. Once you remove the chicken, let them rest for 5 to 10 minutes. Brown buns, spread 1 1/2 tablespoons of mayonnaise on each bun half. Sprinkle 2 tablespoons of crushed potato chips on the mayonnaise. Stack lettuce, 1 chicken breast, 3 bacon pieces, and 1 tomato slice, and close your sandwiches.
Pro Tip: Go green with this creamy avocado sauce: Blend 1/4 small avocado (diced), 1/2 large (roughly chopped), 1/4 cup roughly chopped fresh cilantro leaves and tender stems (from about 6 sprigs), 5 tablespoons vegetable oil, 2 tablespoons water, and 1 tablespoon fresh lime juice. As your chicken brines, purée until you get a smooth, creamy sauce. Add salt to taste. After brining chicken breasts, brush them with the green sauce. Spread a little on your toasty buns before building your sandwich.
The (Truly) Grilled Cheese
A sandwich discussion wouldn't be complete without acknowledging the ultimate simple pleasure: the grilled cheese. If it feels sacrilegious to take this sandwich from the griddle to the grill, I respect your commitment to classic technique. But have a little faith — with a straightforward approach (definitely not this), you can enjoy this cheesy indulgence in all its buttery glory, with a side of fresh air. Still hesitant about ditching the skillet? Consider it a way to maintain your grilled cheese habit without sweating over a hot stove this summer. Also, serving up gooey grilled cheeses at a barbecue is a great way to please your vegetarian acquaintances without resorting to the horror of fake meat.
Before you whip up a batch of melty deliciousness, know this: Grilled cheese sandwiches are like snowflakes — everyone's is different. I won't tell you how to make your perfect grilled cheese, but here are a few things to consider:
Here's What You Need:
How You Grill It:
You don't need fancy grilling spatulas (whatever those are) or tin foil origami structures to make a perfectly good grilled cheese on an actual grill. You should, however, keep one side of your grill at medium high and the other section cool to avoid toasting your bread to a total crisp. Both sides of your bread should be coated with a stupid amount of butter. Try toasting one side of each slice, flipping, and then adding your cheese while the other side grills. To melt your cheese to its full potential, adhere to the low and slow method and try to keep your flipping to a minimum. Be patient with your sandwich.
Pro Tip: Add bacon. That is all.
You are now ready to go forth and become a summer barbecue legend. So fire up the barbecue and invite some friends over to worship at the altar of melted cheese. Need some sandwich debate prep? Feel free to share all your sandwich feels in the comments. Here are some thought-starters: How many cheese slices make the perfect grilled cheese? To toast or not to toast? Yellow mustard or dijon? And of course, the existential sandwich question: what makes a sandwich a sandwich? (If a hot dog is a sandwich, is a taco? What about a wrap?)
Whether you make a grilled cheese with three slices of good ol' American or prefer an upscale raclette, one thing's for sure: you'll want to be enjoying a Coors Banquet beer while your cheese of choice melts to perfection.

Illustrations by David Saracino

Lily Butler is a Content Producer at Studio@Gawker.
This post is a sponsored collaboration between Coors Banquet Beer and Studio@Gawker.