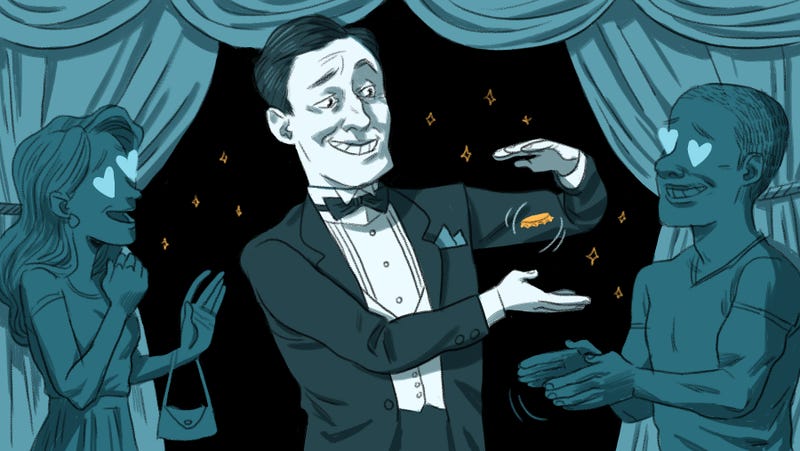 You're never going to be a famous magician, or even a not so famous one, and that's ok — you don't look good in top hats anyway, because nobody does. But here's the thing: people love magic. Children love magic, grown-ups love magic, women you're trying to impress love magic. You should probably know a little bit of magic. Plus, the look on people's faces when you successfully trick them into thinking you just did something totally impossible is priceless.
Luckily for you, Gawker Media has an in-house magician. Ok so he actually works in HR, but he's also a real magician. His name is Eric Goldfarb, and he was kind enough to invent a super easy trick that anyone can do with just a bottle cap, some mediocre acting skills, and a tiny bit of hand eye coordination. This works best in a bar (hey, first dates) or at a BBQ, where your unsuspecting companion(s) are innocently enjoying their cold Coors Banquet beer, with no idea of the amazing feats of deception and trickery they're about to witness.
Before you start, you do a little bit of set-up. As you're talking to your date/friend/victim-of-amazement, or while waiting for them to arrive, take the cap and press it into your hand. This is going to be your indent for later. You can do it with two hands, or one hand, and you don't have to do it for very long. The indent should last for a little while so as long as you've pressed it into your hand pretty hard, you don't have to rush.
Casually mention that these are a new kind of beer caps, saying things like, "did you hear about these new bottle caps? They're made of a brand new material that's biodegradable" Play with the cap a little, turn it over in your hand, make some noise with it. You want your person to know it's a real bottle cap.
Say that because of this cool material, there's something these caps can do that others can't. Use the hand without the indent, and make like you're going to pick it up. Slide it off the table with the thickest part of your palm — if you use your fingers, the other person might see it. Slide the cap off the table and onto your lap. If you're sitting at the bar and aren't sure you can make it into your lap, you can slide it onto the floor as long as the bar is loud enough.
After you've slid it into your lap, make a fist like it's in your hand, and then mime looking at the bottle cap before fake-transferring it into your other hand. It's really important that you look at the "bottle cap" before transferring it to your hand with the indent. This will take your companions eyes off your lap, and they'll forget about the picking it up part.
Mime like you're pushing the cap into the hand with the indent, making a fist. Slowly turn your fist over, squeezing the "bottle cap" with your fingers. Slowly peel your fingers apart to show the indent, saying that the cap melted into your hand. Sit back and allow the awe and wonder of your companion wash over you.
Watch the video below to see the trick in action, and get practicing!
Illustrations by David Saracino
Credits (via Eric Goldfarb):
The idea of dropping an object from the table into the lap is so old, despite my best efforts I cannot confirm it's first publication. But to be clear, this is not my idea.

The imprint of the cap is a similar idea to Jack Tillar's Blister, on page 379 Vol. 7 of The Tarbell Course, Harlan Tarbell, New York 1972.

Maud Deitch is a Senior Content Producer at Studio@Gawker, and a regular contributor to Pitchfork, Paper Magazine, and The Fader. She tweets here.
This post is a sponsored collaboration between Coors Banquet Beer and Studio@Gawker.